Dan & Mabel Magalei

, Senior Pastors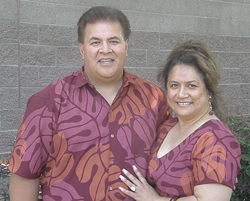 Pastors Dan & Mabel Magalei are both graduates of Rhema Bible Training Center in Broken Arrow, Oklahoma. They served under Pastor Ula Pomele in Santa Rosa, CA for two years prior to being called to Seattle.


Pastor Dan holds a BA in Accounting from Oral Roberts University. Prior to being called to full time ministry, he worked for financial institutions in the field of accounting and auditing. Pastor Mabel holds a JD from Victoria University in Wellington, New Zealand. She worked as an attorney with an emphasis on civil rights.


Both were raised by parents who were Pastors of Samoan Assemblies of God churches in Samoa, New Zealand and in California: the late Rev. Makisua and Mauosamoa Fatialofa and the late Rev. Faasavala and Faamaini Magalei.